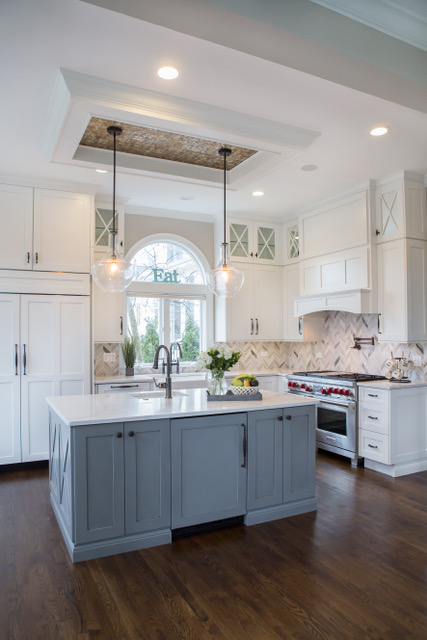 Gorgeous space designed by Monika Ross
With the boom of "Fixer Upper" and other such shows the design world has been taken over by a style described as "modern farmhouse". This cozy yet crisp design aesthetic combines the warmth we all crave for our homes with the clean lines that can sometimes feel too contemporary. The kitchen above so accurately blends all of this together to create a wonderful space. This space was designed by Monika Ross and her description of this style is.....
One design element you see quite often in the modern farmhouse is the "X" or barn door molding on doors, or in the cabinetry above you see it on the end of the island and as the mullion on the upper glass doors. A nod to the design element is the trestle table shown in the eat in area of this kitchen. These subtle elements provide just enough detail to make the space original while sticking to a clean architectural feel and the reclaimed wood feel of the table adds another texture to the space.
Another element that is quite common place is the farmhouse sink. The name of the sink pretty much says it all but it is another way to keep things simple while adding a cozy and more authentic piece to the puzzle. It is also a nice departure from the more common stainless steel sink options. When you think of an old farmhouse you also tend to think of "found objects". In this space the blown glass pendants and wooden tray on the island make you think of pieces you could have found and re-purposed.
You can't talk texture or modern farmhouse design without talking about the use of ship lap.
While Chip & Joanna Gaines have made it a household name as well as t-shirts etc. ship lap has actually been around for a decades. Before it was a design element is was a building and structural component, but now exposing or adding this lovely wood detail brings yet another layer of texture to any space. You can often seen this used above fireplaces, as a ceiling treatment or for an accent way. In the kitchen above it was used as a back splash and while the entire space is white the different texture the ship lap brings breaks things up a bit.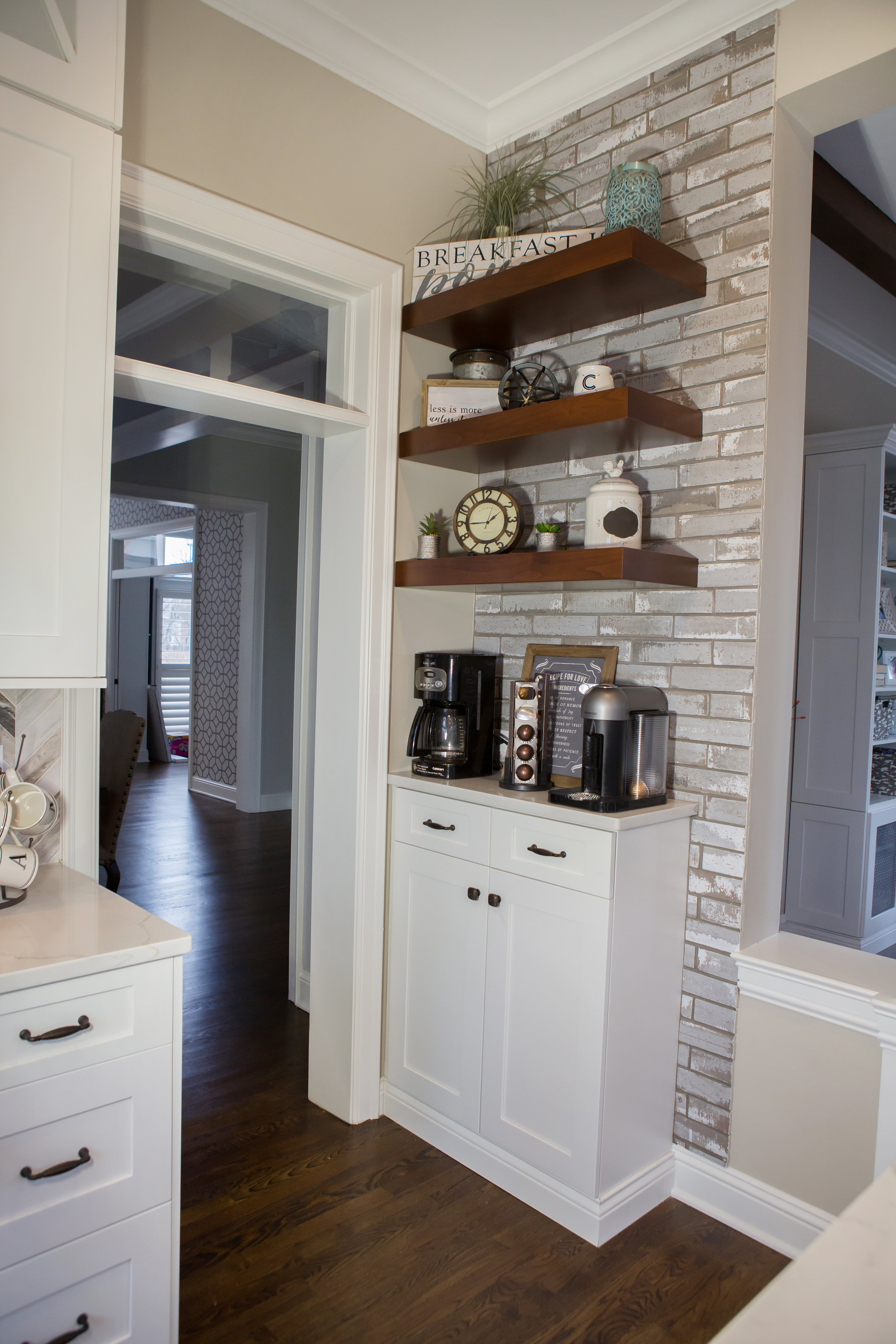 Exposed brick (real or faux) is one of those cool design tricks that can suit many design styles from industrial to traditional and everything in between. The great raw texture adds yet another layer to the modern farmhouse flair. Pairing it with open shelving packed with fun finds and decorative signs is a great way to show your own unique style.
Modern farmhouse design gives each individual the opportunity to layer in all the things that make them, them. From rustic yet comfortable pieces to things that have more of a heritage feel. It takes the best of everything you love about the past and makes it current for modern day life with a special simplicity all its own. The best thing is that this design style works no matter where you live, so see what kind of great spaces you can create using all or some of these elements.